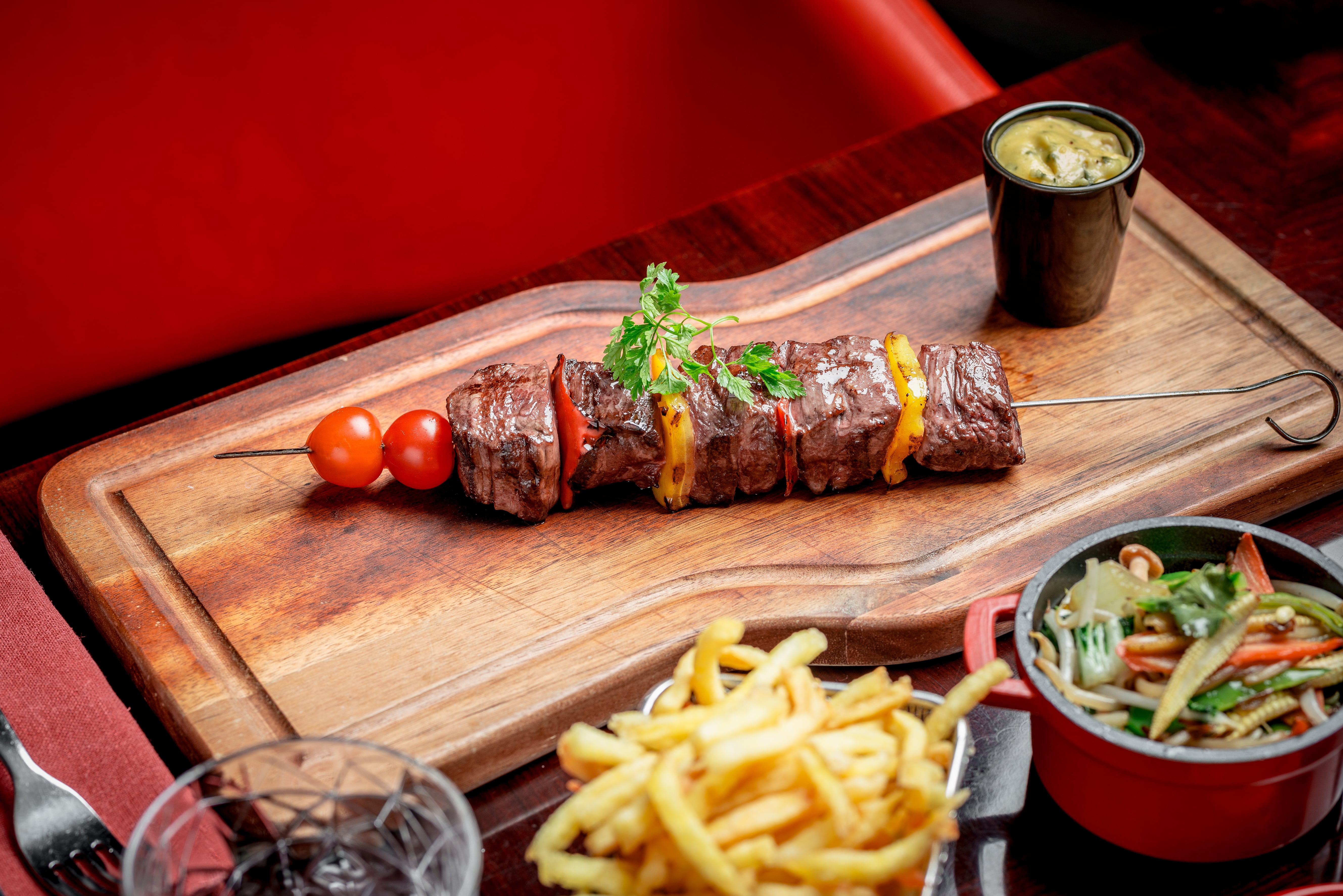 The menu boasts a wide variety of beef breeds and cuts, all cooked to perfection, with American influences made superior thanks to the home-made sauces and side dishes, all served in ample portions.
Good taste is tailor-made at Ma Chère & Tendre!
A la carte
Menus
Menus for groups
A la carte
TO START
Bavarian smoked sirloin - 17
Pickles of vegetables
Maryland style crab cake - 15
American style croquette
Shrimps skewer marinated with lemongrass and ginger - 14
pan-fried soy shoots
Chef's salad - 12
according to the season
Duck foie gras with Porto - 15
Roasted turnip and fruit chutney
Sharing platter - 22
foie gras, crab cake, smoked sirloin
PLANCHA
Scottish red label salmon fillet - 24
TO SHARE
Charolaise rib 1kg for two persons - 68
Tender and marbled generous cut
SKEWERS CORNER
Skewer of Gambero Rosa shrimps from Mozambique - 21
BEEF JUST AS YOU LIKE
BEEF FROM FRANCE & ABROAD
LIMOUSINE
A tender rustic red from France's central region. Ideal for those who like taste and not fat.
Sirloin (300 g) - 32
Pure delicateness: a fine-grained, succulent cut with very little fat
AUBRAC
A subtle and refined taste from the North-East of Aveyron. Ideal for those who like well matured meat with a strong character
Rib eye (350 g) - 36
A rib of beef, boned, perfectly marbled
CHAROLAISE
Easy to approach, an elegant flavour and very little fat: it has everything to please Ideal for fans of tenderness and lightness.
Fillet (200 g) - 38
A subtle flavour, best enjoyed rare
Knife cut tartare (180gr) - 21
Freshly chopped fillet with traditional seasonning.
SALERS
Heart of Rump steak - 29
The best of the sirloin, combining tenderness and flavor
IRELAND
Black Angus rib-eye - 36
The best of the ribsteak
Black Angus Cheeseburger (160gr) - 26
A generous burger steak
ARGENTINIAN
An exceptional meat, raised on the great grassy plains of South America. Ideal for those who think they have tasted everything.
Rib-eye (200 g) - 32
A unique intensity, succulent and generous
HOME-MADE SIDES…
Our meats and fishes are served with one side dish. Extra side dish €5
Mashed potatoes with herbs
Gratin of macaroni with oxtail
HOME-MADE SAUCES
Our meats and fishes are served with one home-made sauce. Extra sauce €2
DESSERTS
Sélection de 3 fromages de saison affinés par Marie Quatrehomme et Dominique Fabre - 13
Paris - Brest
for 2 : 19 / for 4 : 28 / for 6 : 56
Chocolat tout croquant - 10
Fruit tart of the moment - 10
Ice creams and sorbets - 10
*Valid for 10 persons maximum per table. For more than 10 guests, please contact us for a group proposal
If you have food allergies please inform our head waiter and he will assist you in making your selection.Please feel free to seek our advice on how each cut should be cooked.Net prices in euros, tax and service charge included.
Menus
LUNCH & DINNER
Menus available from Monday to Friday
Starter of the day + main course of the day or main course of the day + dessert of the day - 27 €
Starter of the day + main course of the day + dessert of the day - 35€
Menus for groups
From 9 to 120 pax.
MENUS
Starter, main course, dessert, coffee - 59 €
starter, main course, dessert, coffee, beverage pack n°1 - 77 €
starter, main course, dessert, coffee, beverage pack n°2 - 80 €
STARTERS
Foie gras and seasonalfruit chutney
Baby crawfishtail, pineapple, cucumberand thaï basiltartar
Quinoa, freshfruits et goji berries(vegeterian)
TO CONTINUE…
Flankof Veal, honeyglazedcarrots
Rack of lambin a hazlenutpastry, mashedpotatoes (Hallal possibility)
Back of seabass, seashellrisotto and itsjuice
TO FINISH…
Rum sponge cake in light syrup, and exotic fruit
Revisited black forest cake and candied cherries
Madagascar VanillaSaint Honoré
TO GO ALONG WITH …
Beverage package n°1 - 15 €
White Wine Domaine de la Tour des Pins -Pays d'Oc IGP Red Wine Fontissimo Grand vin de Bordeaux - Médoc & Mineral water
Beverage package n°2 - 19 €
White Wine M de Minuty –Cotes de Provence Red Wine Maison Guigal -Cotes du Rhône
Lunch: Monday to Friday

12 PM to 2 PM

Dinner: Monday to Friday

7 PM to 10.30 PM